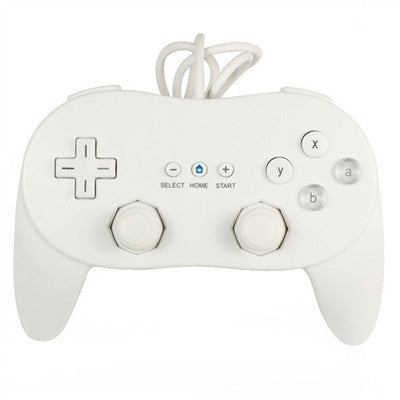 Althemax
Classic Pro Game Joysticks Controller Remote for Nintendo Wii Multi Color Black White - White
---
Features:
100% brand new high quality Classic Game Controller with grip.

This Classic Controller Productor features "two rows of shoulder buttons and ergonomically designed grips"

Designed to work together with the Wii remote controller on the Wii video game system

Lends elements from the controllers for the Nintendo Entertainment System, the Super Nintendo Entertainment System and the Nintendo.

Allows seamless control when playing the titles on the Nintendo Wii's Virtual Console

Use the control pad along with the A and B buttons for a familiar experience when playing Nintendo Entertainment System games.

Stylish controller is comfortable to hold, even during extended gaming sessions.

The controls you're familiar with in your favorite classic games, all on one controller.

Directly plugs into the Wii Remote.
Package Includes:

Classic Pro Game Joysticks Controller Remote for Nintendo Wii X1
---
Share this Product
---
More from this collection