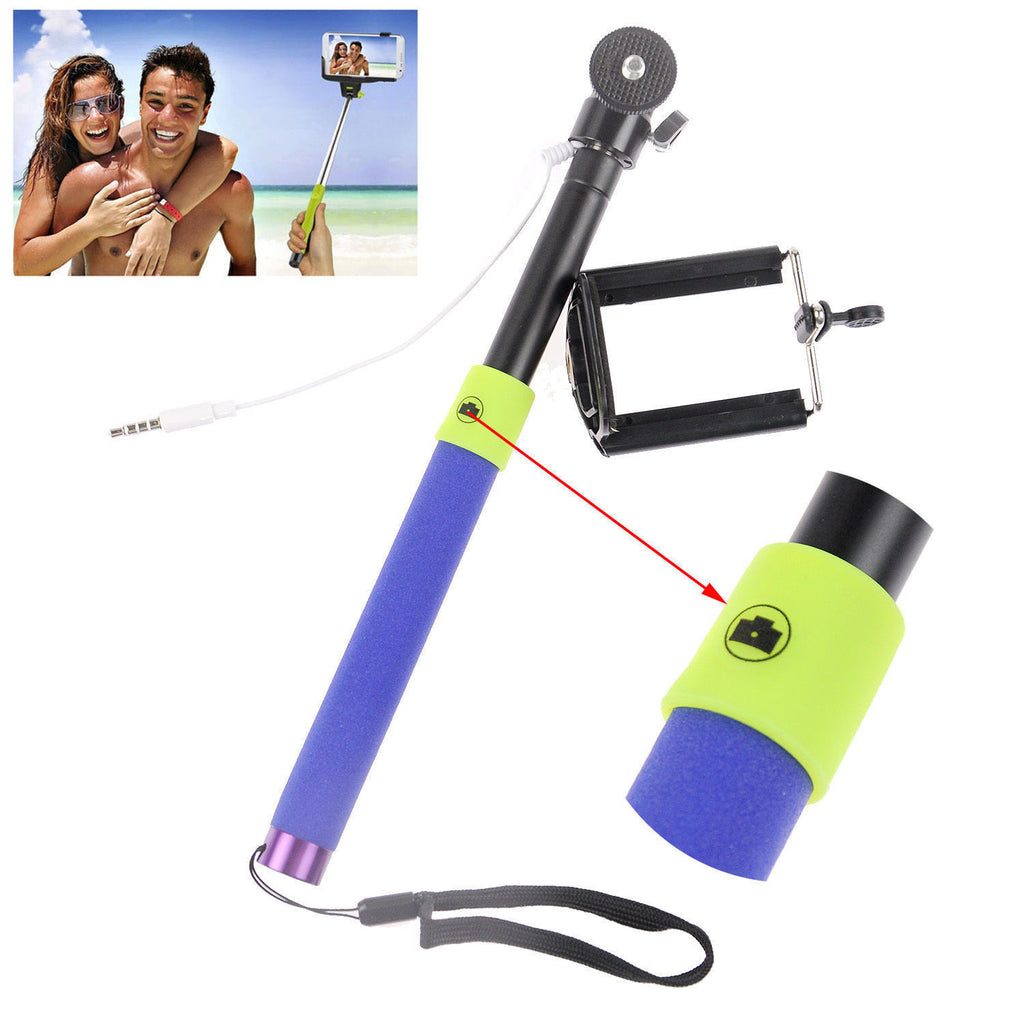 Althemax
Wired 3.5mm With Sponge Anti Slip Remote Extendable Shutter Selfie Monopod Stick Blue Purple
---
Overview :
This product is a great assistant to help you take photos of yourself by yourself or take pictures with your friends and family. Wired Bluetooth Selfie Stick Monopod with built-in with Remote Control Shutter, and no additional shutter needed. Don't need to charge Snap away. Take the line without charge, Just plug it into audio port, You will like it! (Optional: Also works with Camera 360 App, available on Apple App Store & Google play)

Features:
- 100% brand new and high quality
- SELFIE Extendable Monopod with 3.5mm Jack Cable and Remote Button for IOS & Android system.
- Non-slip soft foam handle
- Quick spin knob for fast and secure mounting
- Connects to tripod mount on camera
- Adapter rotates 180-degrees
- Unique ball-head for easy adjustment to any angle
- Lightweight, portable, easy to carry
- Newest? No Battery Needed, No Bluetooth Pair Needed, Apps Free, Wi-Fi Free.
- About 98cm 39 inch Extendable handheld selfie stick for iPhone, Samsung, Sony, LG and other popular brand smartphones.
- Allow you to take steadier and sharper pictures and videos by avoiding shakes and vibration when holding your device running iOS 5.0 + Andriod 4.2.2+.
- This Monopod can be extended to 90cm, with adjustable phone holder clamp and thumb screw of monopod locks for multiple angle shooting with 180 degree position. Adjustable phone holder fits all phones width between 5.6-8.5 cm.
- Built-in shutter button designed for easy to tack continuous shooting and capture any moment.

Specifications:
- Material : Aluminum alloy
- Size of product : 5 segment
- Extends to 90cm
- Closes to 20cm
- Clip size: 5.5 - 7.5 cm
- Jack: 3.5mm audio plug
IOS/Anderoid take line directions for use:
- For IOS series products, do not need to install any software can be used, with take line, open the camera can take pictures. Suitable model with (note: use be at least iOS5.0 version): iPhone 3GS/4/4S/5/5C/5S/6/6 Plus, iPad 2/3/4 Air Mini (iOS 5.1 or above), etc.
- For Android mobile phone, because the Android system for open systems, each brand can be modified according to its own ideas of mobile phone function, formulation, no unified standard, and even the same brand of different versions of the system design, the configuration is different also, so part of the mobile phone cannot be used directly, you need to install a similar 360 camera APP to use. For such as: Samsung Note 2/3 S4, GT-19128E system version a new configuration such as high mobile phone, do not need to install the APP, but need to change my camera Settings, the GT-19128E, for example, other brands or models of mobile phone, please According to the following instructions, combined with the actual situation of mobile phone set.
1) Open the camera, click on the gear shape icon set into the interface.
2) Continue to click on the icon in the top right corner of the gear from into the next layer menu.
3) Continue to click on the icon on the right side of the gear shape layer to the next menu.
4) Click on "camera key...zoom key" to enter layer in the options menu.
5) Choose "camera button", exit set state can take line by remote control to use pictures.
** Product is equipped with a switch, pull before use, please according to the mobile phone system, will switch to correspond to the phone's working mode.**

Package includes:
- Wired Handheld Monopod Stick with 3.5mm Jack Cable - Black X1
- Phone Holder  X1
---
Share this Product
---
More from this collection